The Team
A team that strives to be contrarian by staying small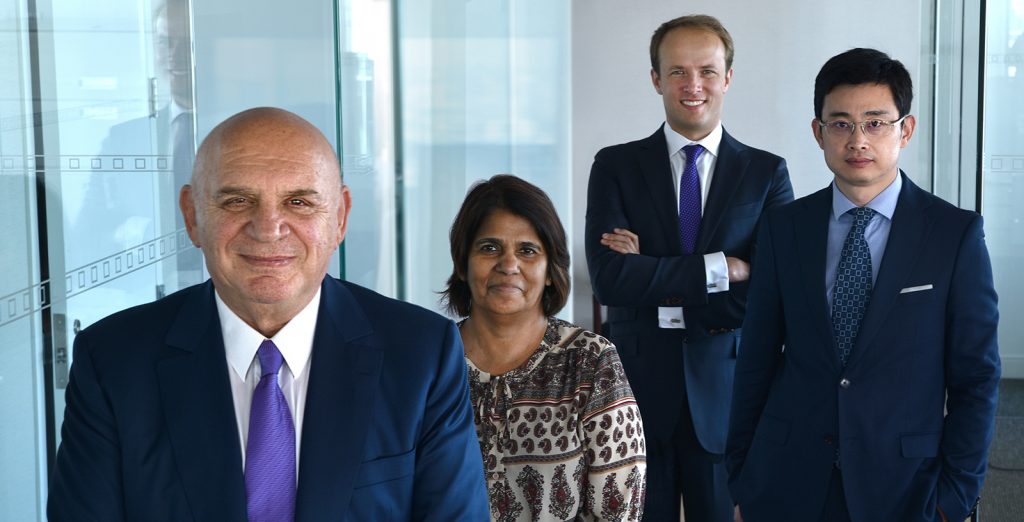 François Sicart, Patsy Jaganath,
 Bogumil Baranowski, and Allen Huang
We are a boutique operation. We have no sales force and no business agenda. We have no corporate parent imposing short-term goals and quotas. Our overriding motivation is to succeed by serving our clients well.
The team consists of five members, including four founding partners of Sicart Associates.
François Sicart is a Founding Partner of Sicart Associates, LLC. He is a graduate of HEC Paris. Before founding and chairing Tocqueville Asset Management L.P., he had been a general partner of Tucker, Anthony & R.L. Day and vice-chairman of Tucker Anthony Management Co. He has 50 years of experience managing individual clients' accounts and their family affairs, and has sat on a number of bank and investment fund boards.
Patsy Jaganath is a Founding Partner of Sicart Associates, LLC. She is a Pace University graduate, has 23 years of financial experience. Prior to joining Tocqueville as the Controller in 1994, Patsy worked as a staff accountant at a public accounting firm engaged as the independent auditor for Tocqueville Asset Management L.P. and its affiliates. At the start of 2001, she was chosen as Head of the Family Office and has maintained that position for almost 20 years.
Bogumil Baranowski is a Founding Partner of Sicart Associates, LLC. He holds a Master's degree in Finance and Strategy from Institut d'Etudes Politiques de Paris (Sciences Po), and a Master's in Finance and Banking from Warsaw School of Economics. He has 17 years of investment experience. Before joining Sicart Associates, LLC, he worked at Tocqueville Asset Management L.P. as a portfolio manager and senior equity analyst. He is the author of Outsmarting the Crowd – A Value Investor's Guide to Starting, Building and Keeping a Family Fortune (2015), and Money, Life, Family - My Handbook (2019). He is a TEDx Speaker, a former Executive Board member of one of the oldest and most advanced Toastmasters International clubs in New York City, and an Instructor at MOI Global (The Community of Intelligent Investors). His articles regularly appear on Seeking Alpha.
Allen Huang, CFA is a Founding Partner of Sicart Associates, LLC. He is a graduate of Denison University, has an MBA from Brigham Young University and holds a Chartered Financial Analyst (CFA) designation. Initially financial controller of a venture capital firm, he then became a senior portfolio manager at Tocqueville Asset Management L.P. He has over 20 years of investment experience and a precious knowledge of Chinese patrimonial questions.
Douglas A. Rankin, CFA is a Portfolio Manager of Sicart Associates, LLC. Douglas has 21 years of experience in the financial services industry, and was Managing Partner of The Mercer Oak Group with Raymond James Financial Services, formed in 2015. Prior to founding The Mercer Oak Group, Douglas was employed at Tocqueville Asset Management as a Portfolio Manager where he managed individual and institutional accounts. Prior to joining Tocqueville, he spent 7 years at U.S. Trust Company as a Vice President and Portfolio Manager. He began his career at Morgan Stanley in the Private Client Division. Mr. Rankin is a CFA charter holder and received his BS in Finance from the University of Maryland.
We have all worked together through most of our respective professional careers.